POST COVID-19: THRIVING IN THE NEW NORMAL Interactive Webinar Series
POST COVID-19: THRIVING IN THE NEW NORMAL Interactive Webinar Series
Wednesday, May 13, 2020 (7:30 AM - 9:00 AM) (MDT)
Description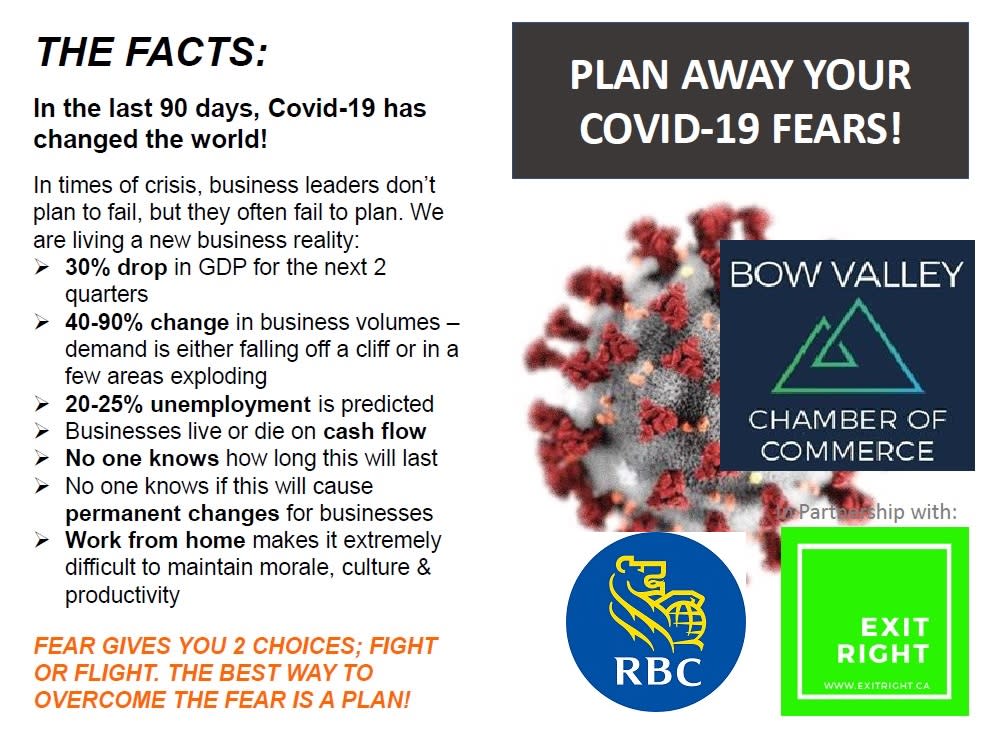 Take part in the BVCC's POST COVID-19: THRIVING IN THE NEW NORMAL Interactive Business Webinar Series. This is a 7 part series focusing on helping you get your business through this crisis and will provide tools and practices to ensure you thrive as the economy ramps up again.
This isn't a typical webinar, you'll be highly engaged in small group discussions with other business owners to share ideas and develop practical strategies you can put to work immediately. You'll take away a better understanding of the crucial changes required to survive in the new normal, and how being lean, adaptive and anticipating your customers changing needs will set you up for growth; and you'll build your business support network in the process.
Your business can survive and ultimately thrive if you face the new reality head on, develop plans, execute with urgency, measure and improve, and recognize we can help each other get through this together.
All Webinars in the series are from 7:30am-9:00am.
The 7 webinars will focus on:
Wednesday, May 13th
Financial Health - Cash-flow & alternate financing to survive.
Wednesday, May 20th
Government & Alternate Financing - Government programs, alternate financing/lending.
Monday, May 25th
Protect People - Policy, management, communications, HSE & employment regulations.
Wednesday, May 27th
Marketing/Sales - Client engagement, impacts, changing needs & innovation.
Monday, June 1st
Operational Excellence - Maintaining service levels & supply chain, while reducing costs.
Wednesday, June 3rd
Support Functions - "Lean" IT, accounting, finance, HSE, QA, legal.
Monday, June 8th
Leadership Nerve Centre - Agile communication, action plans, alignment, roles & responsibilities.
Exit Right is an association of senior executives with diverse experience and skills working together to empower small / medium business owners to exit from their businesses retaining the most value for themselves and their stakeholders. We support them by planning, building value before the sale, transacting to retain the most value & transitioning value to the new owners.
Owners Exit Right works with:
Retire with confidence
Maximize the financial value of their exit
Provide a financial legacy for their family
Leave a sustainable, secure workplace for their people
Leave an economic legacy for their community
Know they've made a lasting difference…
The four lead executives for Exit Right are:
Brad Gaulin, P.Eng., MBA. Brad is an evolutionary change agent & executive team coach that has been transforming organizations for over 12 years as a consultant, & for over 35 years as a professional, executive & serial entrepreneur. Brad empowers leaders & their teams to consciously change & grow by combining a proven agile change process with a conscious (sustainable/ESG) business philosophy. Clients can leverage his extensive experience in strategy, innovation, growth marketing, organizational design, operational excellence, team building, leadership & cultural transformation. He honed these skills in the energy sector, engineering, industrial products/services, automation & online technology.

Peter Teunissen Peter is an entrepreneurial CPA with 14+ years of progressive experience as a CFO, VP Finance & Controller. From 2006 to 2011 Peter worked as an accountant in public practice, and subsequently moved into "Industry" working in leadership positions, predominantly focused in the construction and Oil & Gas services industry.
Peter is backed by a proven track record in cash flow management, business modeling, process development and strong communication skills with a drive to mentor & lead. Peter stands out with his drive to connect with the operational side of any business, not hesitating to put on a pair of steel toed boots and get hands on with the entire team. Connected with a vast network of service providers, bankers, lawyers and consultants make Peter and a must have connection.

Robert Welke Acting in various executive and management roles, Robert has been able to make an immediate impact in every business he has worked in. He has developed extensive experience through starting & growing several small businesses over the past twenty-eight years in the upstream, O&G, environmental and financial services industries. His varied and multi industry experience makes him a considerable asset to any company requiring operational expertise, process optimization, leadership, strategy development and execution, business, financial, operational excellence, change management, human resources as well as health and safety policy and procedure development. He graduated with a B.Comm. in Finance from UBC.
Ken Kan, MSc., MBA, CIH, CRSP. Ken is a dynamic, business-oriented Health, Safety & Environment (HSE) / Sustainability (ESG) Executive, Board Director & Performance Strategist. His extensive 27-years of progressive growth includes Chief HSE Executive & VP at iconic GE (18 years). His diverse local to global experience runs across 10+ industries from Energy (Oil & Gas, Power, Nuclear), Infrastructure (Transportation, Aviation), Technology to Regulatory Enforcement. Ken's collaborations leverage his proven track record of driving strategic/operational/tactical performance, accelerating organizational/cultural transformations and amplifying best-in-class successes. His engagements, from systems, compliance to crises, strive for innovative yet practical outcomes. Ken is an energizing happiness catalyst known for inspiring high-performing global cultures and teams. He is post-graduate trained and internationally certified.


CLICK HERE TO REGISTER