June 2021 Bow Valley Chamber of Commerce Business Book Club
June 2021 Bow Valley Chamber of Commerce Business Book Club
Wednesday, June 16, 2021 (5:30 PM - 7:00 PM) (MDT)
Description
June BVCC Business Book Club!
June 16th, 2021 | 5:30-7:00pm
ZOOM
A Tribe Called Bliss by Lori Harder
Join us with a beverage and a snack from a local Bow Valley Business! All are welcome and invite a friend!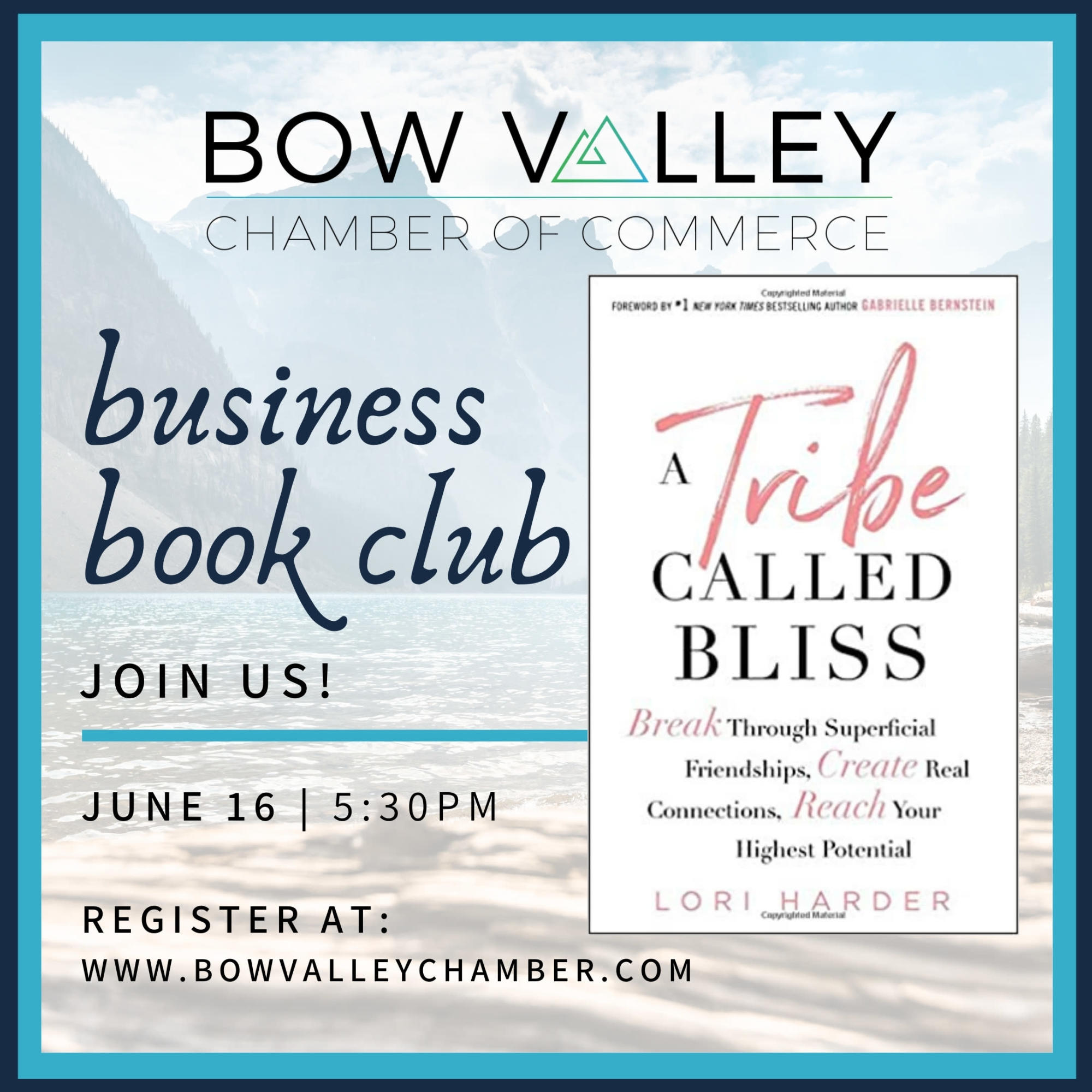 In partnership with Café Books!

Want to #buyitinthebow? Purchase your book locally at Café Books for a 10% discount! Use "Bow Valley Chamber of Commerce Business Book Club" for discount in store. 10% discount only available for instore purchase at Café Books.
Join us for BVCC Business Book Club on June 16th, where we'll be talking about A Tribe Called Bliss by Lori Harder.
Inspired by Lori's own journey through loss, loneliness, and disconnection and her fears of remaining an outsider and of never reaching her dreams, A Tribe Called Bliss details how Lori shed unfulfilling, surface-level friendships and discovered her untapped potential. Step by step, she lights the way to show you how you can achieve deep, meaningful relationships that accelerate and support your highest potential, while providing the tools to ensure unshakable faith in yourself and your journey.
A Tribe Called Bliss is the way to lock in lasting, positive change and connect you to your soul's calling once and for all. This practical, timely book is for everyone seeking to discover her authentic calling, release her fears, and reach her next level. Lori provides the tools and contextual self-work exercises to develop the self-awareness and mindfulness that is the key to a lifetime of blissful happiness.
Haven't read the book? Don't let that stop you from coming to hear more about it. The conversation surrounding the book may be just as beneficial as reading the book!
Designed out of the simple desire to keep our business networking events alive and well! The BVCC is offering an interactive and educational twist to our much-loved Bevvies & Business networking event. You are invited to BVCC Business Book Club a virtual gathering to talk about one business book per month. BVCC Business Book Club offers not only relevant business tools, inspirations, practices and teachings, but the opportunity to converse and connect with fellow local business owners.
BVCC Book Club Testimonials:
"For someone who didn't read the book, this was awesome!"
Heather Johnson - The Bear Minimum
"It was great. It's been a funny year; really hard to connect. This is a nice space to have and to chat with some people."
Laura Dowling - Canadian Rockies Experience
Zoom
PO Box 8525



Canmore

,

AB

T1W 2V2

Canada



Wednesday, June 16, 2021 (5:30 PM - 7:00 PM) (MDT)