Bow Valley Food Systems Info Session
Bow Valley Food Systems Info Session
Wednesday, February 3, 2021
Description
Bow Valley Chamber of Commerce Presents:
BOW VALLEY FOOD SYSTEMS INFO SESSION
In partnership with the Bow Valley Food Alliance (BVFA)
Date: February 3, 2021
Time: 2:00 PM - 3:30 PM
Location: ZOOM
*Event link will be provided upon registration via email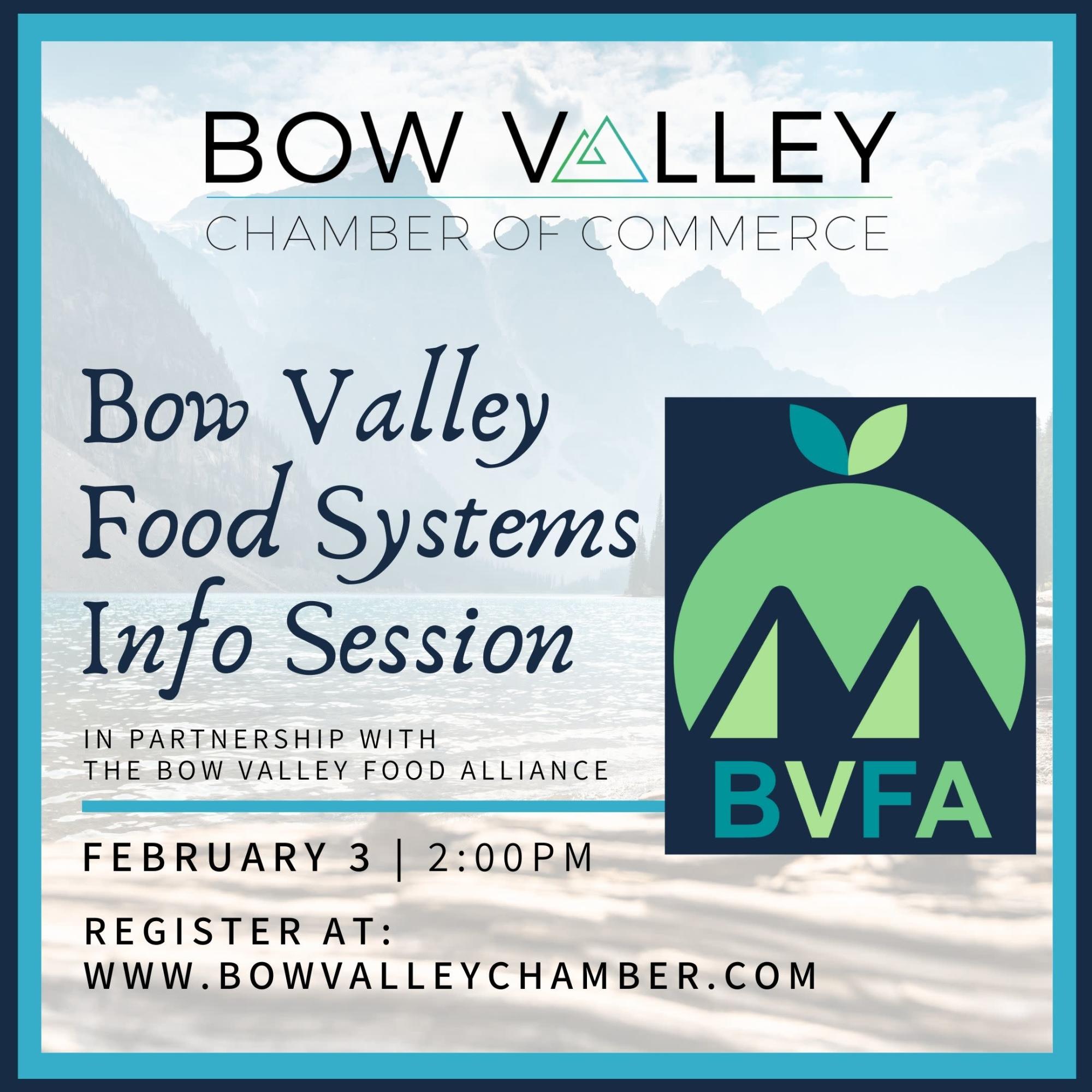 The Bow Valley Food Alliance (BVFA) is a regional organization of passionate citizens and professionals dedicated to addressing food security and food sovereignty in the Bow Valley. The BVFA supports small and growing local food producers, ranchers and processors, encouraging and advocating for equitable, sustainable practices at all points in the food system. By food system, the BVFA refers to all of the different steps it takes to get food from farm to plate to waste.
This informative virtual session will provide an understanding of the multiple ways food is connected to our daily lives, to our communities, and to the people and places across the province, country and world. This session will include speakers from Farm Box, GOAT Generation, Town of Canmore and Communitea Café, and aims to provide a holistic vision on different opportunities local businesses could take to help shape a more resilient food system in the Bow Valley.
The BVFA & BVCC invites you to participate in a virtual information session followed by a Q&A, on February 3rd, 2021 from 2-3:30pm featuring the following speakers:
Avni Soma: (President of the BVFA and co-founder of Farm Box) will discuss sourcing food from local farmers using organic and regenerative agricultural practices.
Ivonne Gamboa: (President and CEO at GOAT Generation) will discuss the meal sharing app now available to businesses in the Bow Valley.
Amy Fournier: (Climate Change Coordinator at the Town of Canmore) will discuss the relatively-new commercial food waste collection program in town, as well as how it helps tackle climate change.
Dallas Suttie: (Manager at Communitea Café) will discuss his experience participating in the Town of Canmore's commercial food waste collection program.
ZOOM
PO Box 8525



Canmore

,

AB

T1W 2V2

Canada



Wednesday, February 3, 2021
February 3rd 2021 2:00pm - 3:30pm